Close More Deals in Less Time
Zoho CRM gives you a 360-degree view of your complete sales cycle and pipeline. Identify trends, spot opportunities, increase efficiency and reduce costs with the right answers, right now.
Attract, Retain and Delight More Customers. Grow your company into a customer-focused organization.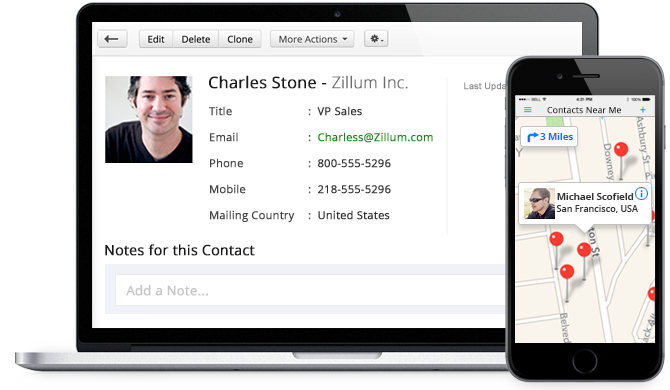 Prioritize. Sell Smarter
Prioritize your tasks and prospects, know what's important to sell faster and grow your business.
The key to better selling is to prioritize the prospects who are interested in the solution you offer. Zoho CRM gives you three ways to prioritize your activities and prospects - especially the ones that matter the most to your business.
CRM View
"If everything is important, then nothing is important."
This old saying holds true when you are pressed for time. Often, you may find yourself working on some trivial tasks leaving you with little or no time to focus on the important ones. The CRM View intelligently scans your customers according to their stages in the sales cycle. It's categorized based on the leads, customers and potential customers, which gives you a fair idea of the activities that demand your attention.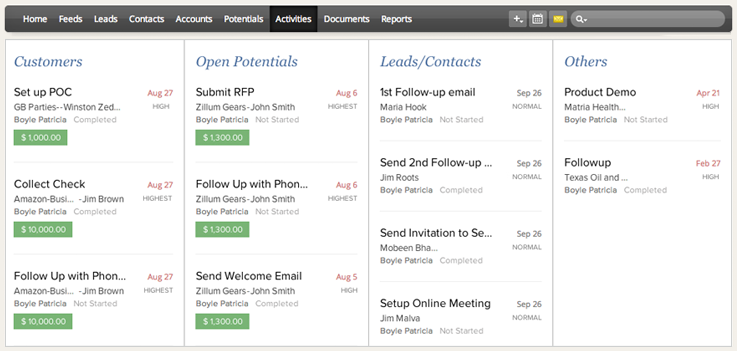 Online Sales Force Automation (SFA) Software
Zoho's Sales Force Automation (SFA) solution drives sales force performance and profitability by giving you everything you need to sell smarter. By automating your processes, it frees your people to concentrate on creating leads, closing deals and growing your customer relationships. Zoho SFA makes it simple to perform:
Lead Generation & Qualification
Pipeline Analysis
Sales Stage & Probability Analysis
Competitive Analysis
Real-Time Forecasting
Quota Management
With Zoho SFA you'll replace doing tasks with hitting targets. Even better, your entire team will be able to collaborate and share information as it happens, eliminating redundancy and aligning goals. Successful selling isn't about effort; it's about results.
Drive Leads
Automate the lead management process
Accelerate the speed from lead to deal
Capture leads directly from website visits
Import leads from external sources such as trade shows, seminars, direct mail, and other programs
Match sales-ready leads to the appropriate sales people
Convert prospects into sales opportunities, accounts, and contacts with a single click
Customize sales processes to leverage your own best practices (B2B & B2C)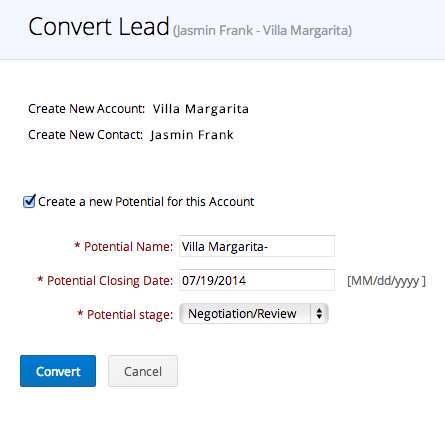 Manage Customer Accounts
Monitor all customer accounts and related contacts, opportunities and developments from a shared database
View customers across products, geographies, account and status
Specify parent-child relationships between customer accounts and their subsidiaries or other divisions
Generate price quotes, sales orders and invoices
Track customer purchase history to identify cross-sell and up-sell opportunities, and establish effective loyalty programs
Effectively Follow-Up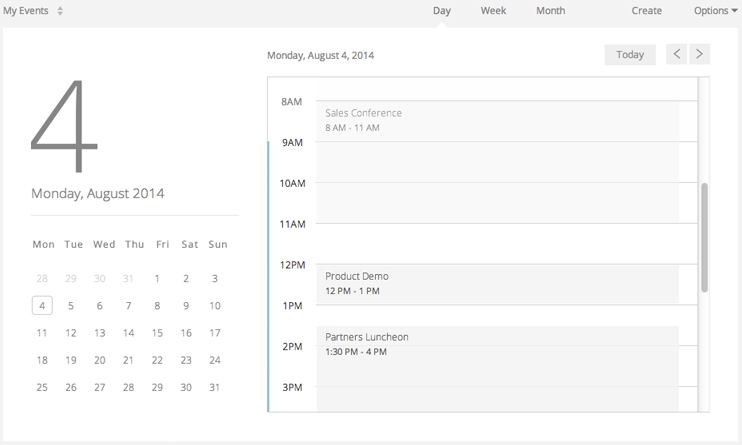 Log all important customer calls for quick and easy reference
Store customer meetings and calls in an intuitive calendar
Manage daily tasks to streamline sales
Invite staff, leads and contacts to events and meetings
Set up recurring events by day, week, month and/or year
te staff, leads and contacts to events and meetings
Set up recurring events by day, week, month and/or year
Accurately Forecast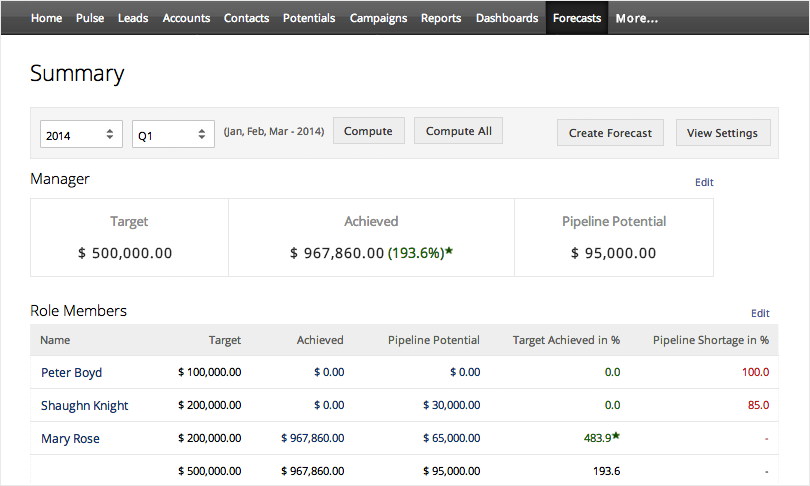 Estimate revenue based on data within Zoho CRM
Establish, assign and edit sales quotas for salespeople and teams
Identify individual and team performance
Measure forecast accuracy against commit amounts
Create fully customizable forecast reports and dashboards
Sales Opportunity Tracking Software
The efforts put forward to complete a sale will prove useless if the customers with the highest likelihood to close a deal are not handled appropriately. It is important that you be able to recognize and manage these opportunities that may translate to actual revenue.
What are Sales Opportunities?
Customers (businesses or consumers) that show a clear interest in closing a deal or proceeding with a complete transaction are opportunities. They request quotes, relevant product details and make offers for payment. An exclusive means of communication is required to deal with businesses that have the potential for converting prospects to actual sales. The words opportunities, deals and potentials are used synonymously in this regard.
What is Sales Opportunity Management?
Sales Opportunity Management is the process of identifying, communicating, and analyzing customers willing to avail themselves of products or services until completion of a transaction. This involves tracking of the sales cycle for a given opportunity from being a prospect to closing with sales won or lost. It is facilitated by dividing the cycle into different stages from start to end, relating a probability to each stage and raising the bar of revenue from one stage to the next.
When there is a tough market for completing a sale, monitoring competitors may also be a part of the intermediate processes. Reasons for a closed sale (won or lost) can also be examined by associating contacts, activities, and products to the concerned potential client. This information will help guide you in making improvements for future sales.
What do I Gain from Zoho CRM's Sales Opportunity Tracking Software?
Zoho CRM's sales opportunity tracking module provides an exclusive interface to store and manage information details relative to opportunities with fields like stage, probability and expected revenue. A quick assessment of opportunities is possible through reports and dashboards (sales funnel) specific to opportunity management.
Opportunities can be imported from external CRM solutions and associated with other records like contacts, competitors, products, and sales stage history, giving you a perspective covering all aspects of the sale. The Big Deal alert option can be used to signal everyone concerned about a major deal completed or nearing completion. Overall it enables you to close more deals while offering insight into improving future deals.
Your Benefits
Track all sales opportunities end-to-end in a sales cycle
Import Sales opportunities from third-party business or CRM solutions and services using Import Wizard and Zoho CRM API
Associate Sales opportunities with accounts, contacts, activities, and other modules to have a better visibility on the opportunities - 360-degree view
Track competition on each business opportunity and assess your strengths and weaknesses
Set up sales stage and probability of winning deals using drag and drop customization wizard
Alert the intended audience in your organization when a big deal closes (big deal alert) or is nearing completion
Identify and eliminate any bottlenecks in the sales process utilizing the sales pipeline and sales escalation process
Free Edition is available for 10 users with 100,000 records storage